The Rover 80 was produced from 1960 to 1962, during this period 5900 cars were built alongside the new Rover 100 with which it shared common features with the exception of the engine.
The power unit of this model was a 2286 cc, four cylinder pushrod engine - the only P4 to deviate from the overhead inlet/side exhaust layout. The carburettor was a single Solex and the unit developed 77 bhp. The engine was a version of the 2 litre diesel and 2.25 litre petrol engines introduced for the Land Rover and its use in the 80 rationalised the engine manufacturing lines. The car performed far better than the rather inadequate 60, which was the only other four cylinder P4, and due to the decreased weight at the front the car handles better with less understeer. There is no doubt about the shortage of two cylinders in smoothness however.
Alongside the contemporary Rover 100, the 80 had Overdrive and disc brakes as standard fittings. The styling included the bumper profile and overriders which were introduced for the Rover 3 Litre (P5).
The Rover 80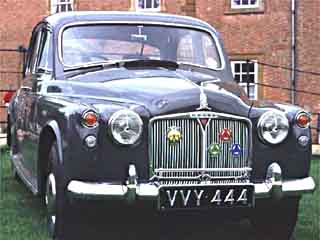 Steve Shone's Rover 80
Click here to return to list of models
Click here to return to contents page